Member News:
Robyn Henry and her husband Brad have adopted a beautiful baby boy! Matthew Henry Smith born Thursday, December 27th – 9lbs, 8ozs, 22 inches!

Jamie McQueen and her husband had a beautiful baby girl! Maura Grace McQueen, born Monday, January 7th – 7lbs 2ozs and 20 inches long.
Congratulations Nancy Dippolito! Nancy will begin a new volunteer position with the ALA National Business Partner Relations Committee. We will miss Nancy on the Board of our local Chapter and wish her much success with this new exciting opportunity.
The Salisbury University Alumni Association has welcomed a new member to its board of directors: Kelly Bulsak. Kelly earned her bachelor's in Education in 2002 with a minor in Computer Science, and later two master's degrees: in Applied Education Technology and in Teaching and Learning from Wilmington University. She is an IT Education Specialist at Weber Gallagher Simpson Stapleton Fires & Newby, LLP, in Philadelphia, and previously taught at Woodland Middle School in New Jersey. She also is the Vice President of Technology for the Philadelphia Chapter of the Association of Legal Administrators.
Congratulations to Mike Corr effective January 1st he is the new Executive Director of Curtin & Heefner, LLP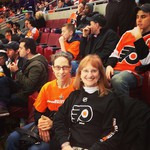 Joanne Miraglia and Martha Keen had a great time at a Flyers' game with their win from the Liz Sutter benefit!
WELCOME!

We would like to welcome our new and returning members. If you are aware of another firm administrator that would benefit from joining our organization, please reach out to them or direct them to our Membership group. Anne Slattery and Joanne Miraglia would be happy to follow up with them.
---
DID YOU KNOW? …
There is a treasure trove of Webinars available On-Demand – just click on Member Center – Education and view whenever convenient for you. Please take advantage of them – You don't know what you are missing!
Do you currently work with Juris? If you are interested in participating in a Juris Forum where you can exchange ideas, questions and information related to the Juris software please join the forum. To join the forum access your member profile and under the 'My Profile' tab select contact preferences, scroll down and click on the box to subscribe to the "Juris Forum". (please do not click on the button selection stating 'I do not want to receive emails sent to multiple recipients' or you will not receive announcements and invitations to events).
The above referenced item within your profile to choose "to not receive emails sent to multiple recipients" allows you to turn on/off emails generated from the Philadelphia Chapter ALA website, such as announcements, invitations and in the future listserve/forum related emails. The real purpose of this is for you to have the ability to control your email, for instance when you go away on vacation, you may not want to come back to a deluge of emails from the ALA Philadelphia Chapter Community. We are currently still supporting the traditional listserv for communications among members, once we start using the website e-lists for the listserv abilities it will be more relevant.