News & Noteworthy
Experience ILTA
By Jamie Serafin, IT Director Conrad O'Brien PC
Celebrating a Big Milestone
By: Joanne Miraglia, Office Manager, Sweeney & Sheehan, P.C.
O Canada, Or Should I Say, O Tornoto
By Marlys Hickman, Fox Rothschild, Philadelphia Firm Administrator; ALA Philadelphia Chapter, VP of Business Partner Relations and Special Events

Keep on Rollin'
By Christine McCarry, Practice Support Manager, Ballard Spahr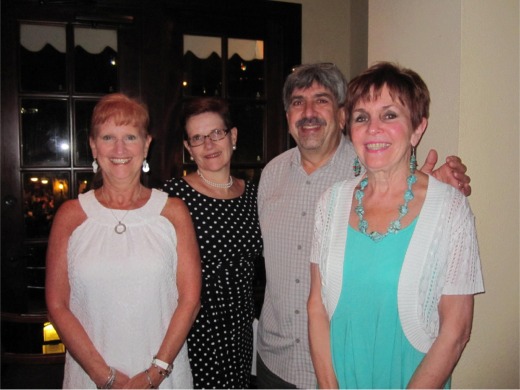 My Learning Experience at the Chapter Leadership Institute in San Antonio, TX
By: Gail W. Ruopp, Executive Director, Flaster/Greenberg PC
Lessons Learned from Attending the Legal Marketing Association Conference
By Shannon Duffy, Marketing Manager, Conrad O'Brien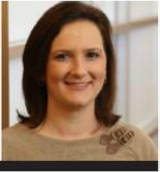 Clean Bills, Happy Clients
By Candy Sharpe, BillBLAST
This article was first published in ILTA's March 2014 issue of Peer to Peer titled "Client Satisfaction: Customer Service Is Job One!" and is reprinted here with permission. For more information about ILTA, visit www.iltanet.org
Client Service Aspect of Client Satisfaction - Amenity or Necessity?
By Garnett Bandy, DTI
This article was first published in ILTA's March 2014 issue of Peer to Peer titled "Client Satisfaction: Customer Service Is Job One!" and is reprinted here with permission. For more information about ILTA, visit www.iltanet.org

The 2014 SHRM Annual Conference as Experienced by a "Newbie"
By Patricia Woodson, SPHR, Director of Administration and Human Resources, Pepper Hamilton, LLP
Events & Attractions
April 21, 2015: 9:00AM to 11:30AM
HR Section Education: Systemic Approach for Stamping Out Harassment (FREE CLE OPPORTUNITY!!) 2.0 PA CLE and HRCI Credits courtesy of Duane Morris Institute. Networking & Breakfast: 9:00–9:30am; Presentation: 9:30–11:30am. Location: Duane Morris Institute, 30 South 17th Street, Philadelphia. Jonathan A. Segal of Duane Morris will present. The EEOC's strategic plan includes an emphasis on eradicating harassment. This includes systemic harassment. Last year, 42% of the EEOC's systemic investigations (not limited to harassment) resulted in a "for cause" finding by the EEOC. Indeed earlier this year, the EEOC held a public hearing on harassment and has committed itself to redouble its efforts in this area, creating a special harassment task force. See event for more detail. Register Now!
---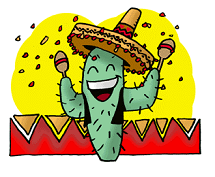 May 6, 2015: 5:00PM to 7:30PM
Join us for our annual Spring/Summer Social as we celebrate Cinco de Mayo + Uno. Yes, you read that right. We're celebrating Cinco de Mayo a day later on May 6, 2015 from 5:00 – 7:30 pm at Tequila's, 1602 Locust Street, Philadelphia, PA This event is open to all Members and Business Partners. Register now!
---
May 7, 2015: 12:00PM to 1:00PM
PEP Talks - "Financial Transparency" For law firms to stay connected, they have to communicate to owners (equity partners) the firm's strategy and outlook. The more we communicate the business of law to our attorneys, the better they will perform as a profitable business entity. Understanding firm dynamics provides a stronger foundation for the partners and the firm to thrive. Areas of focus should include firm finances, peer metrics, business outlook, client composition and firm culture. Understanding these metrics will enable the partners to align themselves and the firm for the best possible results. Presented by: Chris Cordasco, Gail Ruopp, Bruce Gosbin, and Jamie McQueen. Location: Flaster Greenberg, 4 Penn Center, 1600 JFK Boulevard, 2nd Floor, Philadelphia. Register Now!
---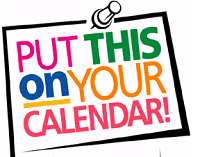 June 3, 2015 5:00PM – 8:00PM
Save the Date for our Annual Meet & Greet (Legal Expo) at The Loews Philadelphia Hotel, 12th & Market Streets. This event is open to all Members, Annual Business Partners and A La Carte sponsorships. More details, including registration, will be posted in the near future.
---
June 4, 2015: 12:00PM to 2:00PM
General Membership Luncheon "Diversity & Inclusion: 60 Tips in 75 Minutes". Presented by: Robert Stevens, Immediate Past Chair of the National ALA Committee on Diversity & Inclusion. Attending "Diversity & Inclusion: 60 Tips in 75 Minutes" will count towards 75 minutes of HR credit for CLM Recertification, or towards the additional hours needed by Functional Specialists applying for the exam (as long as HR isn't your area of specialty – If you are applying for the exam, you cannot use it; however, if you are a CLM, you can use it for recertification) Save the Date!
---
Spotlight

Business Partner Appreciation Night
Culinary Cookoff II ~ Spotlight:
On Wednesday, November 5th, the Philadelphia ALA orchestrated a cook off in appreciation of our Business Partners. Six teams were chosen. Two were making salad, two were making sides and two were making desserts. I was on the salad team. I eat salads EVERY day of the week. I live, eat and sleep salads. The salad we put together was five star. The taster chose the other team. Hey, the guy who was the taste tester was a "Five Guys" kinda guy. Eating salad was not his strong suit. How would he recognize a good salad. No one said we were good losers.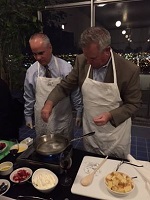 John Diehl and Loren LaQuintano were making dessert. I believe they won the contest. Yeah, Loren looks like he knows what he's doing.
So enough with the competition. I'm over not winning as is Adaptive Solutions, right Chuck?
At dinner, I sat with awesome women from USI Affinity. Shelly Lawson was my neighbor at dinner. She survived. It was a great venue to meet people you do not know. Tip: At any networking event, sit with people you do not recognize or know. You definitely will go away with a "take away".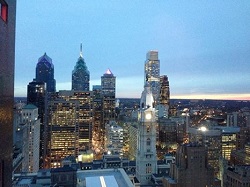 The view at the Loews was once again remarkable. We truly live in an exciting and vibrant city.
Congratulations to Diane Burkhardt for winning a scholarship to Nashville in the spring.
The people who orchestrated this event did an AWESOME job. It's a lot of hard work to make an event go as seamless as this one did. Thank you. Marlys, Pat and Joanne – you ROCK!!!!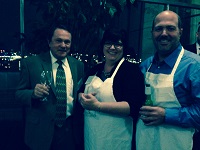 Dave Grimes of Graffen Business Systems,
Diane Burkhardt of Lewis Brisbois
& Chuck Davis of Adaptive Solutions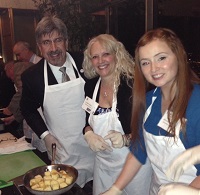 Gil Marquez of Feldman Shepherd, Debbie Kendorski of Golkow and Chelsea Caro of Milstead & Associates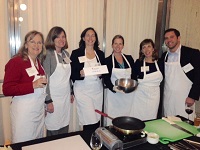 Go Team Blue!
By: Gail Ruopp, Executive Director Flaster/Greenberg