BUSINESS PARTNER CORNER
Questions about how to make the most of your sponsorship? Our Chapter's Executive Director/Business Partner liaison is Brooks Ryan, DTI, National Director, Managed Services, Brooks.Ryan@DTIglobal.com. Contact Brooks with your feedback, questions or concerns.
---
There has never been a better time to review your coffee, vending and refreshments program. Sign up with Canteen by December 31 and receive up to 10 free personal brewers and 15% off your first order. Service can begin after December 31, but the agreement needs to be signed by then. Also, don't forget to ask about our Barista promotion. Check it out the new system here! https://www.youtube.com/watch?v=prgESj7YkgE Please contact Michelle Khan at 267-453-7270 or michelle.khan@compass-usa.com for additional information or to schedule your demo today!
---
New ALA Special Counsel eQ customers get the first month of hosting free. For more details contact lisa.goldstein@specialcounsel.com.

---
Book your holiday party at the Philadelphia Palm between November 1st and December 30th, and add a Celebratory Bubbly Toast for just $5 per person! Parties must be booked and contracted with Beth Minkus, Private Dining Manager, and promotion must be referenced at the time of booking. Offer does not apply to a la carte dining room reservations. Contact 215-546-9635 for more details and date inquiries!
Spotlight

2015 ALA Chapter Leadership Institute "CLI" Conference Grand Rapids, Michigan ~ Spotlight: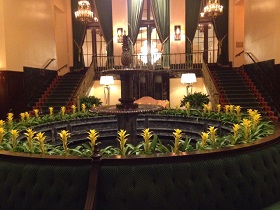 Five members of your board attended this year's Chapter Leadership Institute (CLI) in Grand Rapids, Michigan, which is a three day event. We all have stories to tell about the creative commuting to get to Grand Rapids since there are no direct flights from Philadelphia. Gail flew out of Newark and bumped into Kevin Costello, our Region 1 Representative, at the airport while waiting for the same flight. Marlys, Carmela, Jessica and Kim were not so bright eyed when they stumbled into the airport half asleep for a 6:30 am flight out of Philadelphia heading SOUTH to Charlotte and then NORTH to President Ford's home town.
In addition to the educational sessions and great idea exchanges, one of the benefits of attending CLI is getting to know our board members on a more personal level. This forms a stronger sense of community within the board and aids us to better manage our chapter. Todd Henry, our keynote speaker on Friday morning, addressed fear. He helped many of us in learning to confront fear and how to cope with uncertainty. Many of us did that in just getting to Grand Rapids on Thursday.
Your board members divided and conquered. We attended as many sessions as possible. We networked with chapter leaders from Region 1 as well as chapter leaders with a similar size membership as Philadelphia. We participated in a session with our Region 1 Director, Karen Glowicki, and other Region 1 representatives who offered to assist us with strategic planning, education, and event planning initiatives. Karen and Kevin are looking forward to joining us on October 15th to celebrate our 40th anniversary.
Some sessions confirmed that we are handling chapter objectives properly. It is comforting to obtain confirmation of the success of our efforts. Some sessions, however, opened our eyes as how to be better educators and communicate with our members, business partners and respective firms. We walked away with tools to aid us in increasing value for members and business partners.
The board members who attended CLI this year thank the chapter membership for their confidence as we implement what we learned in order for the Philadelphia Chapter to continue to be a vibrant, responsive association.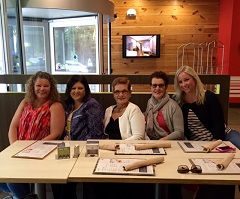 By: Gail Ruopp, Executive Director Flaster/Greenberg