News & Noteworthy
Our 2016-2017 Board of Directors
On April 1st, we introduced our 2016-2017 Board of Directors and thanked those Board members who were rotating off the Board for their service. Your 2016-2017 Board, led by Chapter President Marlys Hickman, has many exciting things in store in the coming term. For easy convenience, please click here for contact information for the new Board of Directors.
---
2015 Holiday Luncheon
On December 4th , we kicked off the holiday season by hosting our annual holiday luncheon at Fogo de Chao. It was so nice to see many of our Members and Business Partners enjoying the luncheon – laughs, smiles and good conversations were had by all. Many even commented that they had to consider wearing sweatpants or something similar next year due to eating too much of the delectable delights!
During the luncheon, the Members and Business Partners also generously contributed to the gift drive of The Philadelphia Ronald McDonald House. In attendance from the RMH was Anthony Stover, Special Events Manager, who was genuinely overwhelmed by the outpouring of gifts, which we hope will give some comfort to the families staying at the RMH during the holiday season.
The following is a portion of an email received from Anthony Stover of RMH: "Santa's helpers have been very busy here at The Philadelphia Ronald McDonald House because of donors like The Philadelphia Chapter of Legal Administrators and your generous donations of financial support, gift cards and toys to benefit the PRMH. The gift cards were just tallied and the total was $1950 of gifts cards plus $350 in cash and checks. On behalf of the families staying here at The Philadelphia Ronald McDonald House, thank you very much for your generous donations."
Please click here to view photos of the day's event
---
2015 ANNUAL BUSINESS PARTNER APPRECIATION NIGHT
On November 5th, Members and Business Partners alike put on their competitive caps and participated in the Annual Business Partner Appreciation Event – Game Night – at the beautiful Rittenhouse Hotel. Whether you were seeing if your answer matched those of the "survey says," while playing Family Feud or using your dexterity skills playing Minute to Win It a fun time was had by all. The setting, the theme and the food all made for a great night of mingling with one another. Great job by our Business Partner Team of Joanne Miraglia, Patricia Gallagher and Carmela Ginsberg.
Click here to check out some of the pictures from that night.
---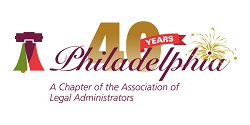 Thank you to all of our Managing Partners, Business Partners and Chapter Members who enjoyed a "magical evening" celebrating our Chapter's 40th Anniversary on October 15th at The National Constitution Center! Click here for photos from the event.