Spotlight

Business Partner Appreciation Night
Culinary Cookoff II ~ Spotlight:
On Wednesday, November 5th, the Philadelphia ALA orchestrated a cook off in appreciation of our Business Partners. Six teams were chosen. Two were making salad, two were making sides and two were making desserts. I was on the salad team. I eat salads EVERY day of the week. I live, eat and sleep salads. The salad we put together was five star. The taster chose the other team. Hey, the guy who was the taste tester was a "Five Guys" kinda guy. Eating salad was not his strong suit. How would he recognize a good salad. No one said we were good losers.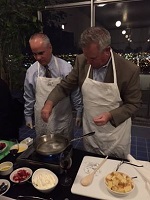 John Diehl and Loren LaQuintano were making dessert. I believe they won the contest. Yeah, Loren looks like he knows what he's doing.
So enough with the competition. I'm over not winning as is Adaptive Solutions, right Chuck?
At dinner, I sat with awesome women from USI Affinity. Shelly Lawson was my neighbor at dinner. She survived. It was a great venue to meet people you do not know. Tip: At any networking event, sit with people you do not recognize or know. You definitely will go away with a "take away".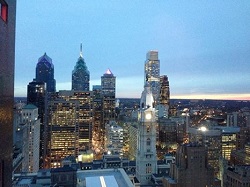 The view at the Loews was once again remarkable. We truly live in an exciting and vibrant city.
Congratulations to Diane Burkhardt for winning a scholarship to Nashville in the spring.
The people who orchestrated this event did an AWESOME job. It's a lot of hard work to make an event go as seamless as this one did. Thank you. Marlys, Pat and Joanne – you ROCK!!!!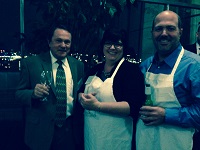 Dave Grimes of Graffen Business Systems,
Diane Burkhardt of Lewis Brisbois
& Chuck Davis of Adaptive Solutions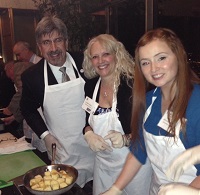 Gil Marquez of Feldman Shepherd, Debbie Kendorski of Golkow and Chelsea Caro of Milstead & Associates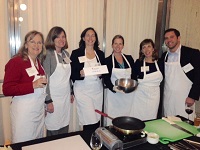 Go Team Blue!
By: Gail Ruopp, Executive Director Flaster/Greenberg