Events & Attractions
September 9, 2015 - 12:00PM - 1:30PM - General Membership Luncheon "Real Estate Trends in Philadelphia" Presented by: Anthony J. Colciaghi, Principal of Francis Cauffman and Glenn Blumenfeld, President of Tactix Real Estate Advisors. Attendees will learn how fundamental changes in the legal industry since the Great Recession have impacted space utilization and what future trends may be. Real estate represents one of the largest line item expenses for law firms after salaries: Administrators and law firm managers will want to hear what firms are doing to reduce real estate costs and better adapt their space to the way firms practice today. Location: The Bellevue 200 S. Broad Street, Philadelphia. Register Now.
| | |
| --- | --- |
| | |
| | |
| --- | --- |
| September 16, 2015 - 8:30AM - 9:45AM - PEP TALK: Leading Lateral Partner Integration – TIPS from the Trenches Location Ballard Spahr, LLP 1735 Market Street, 51st floor, Philadelphia. Sponsored by: 1st & Fresh; Presented by: Cathyann Bixby, Director of Lateral Growth and Integration for Ballard Spahr, LLP & Melissa Margulies, Client Service Counsel for Ballard Spahr, LLP ~ please Register | |

September 28, 2015: Monday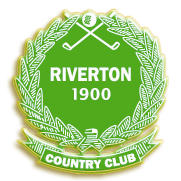 REGISTER FOR OUR ANNUAL OUTING
Our chapter's Annual Golf/Bowling/Wine Tasting Outing is Monday, September 28th at The Riverton Country Club. Please register to attend our Chapter's premier event! If you can't get out of the office that day, please join us for cocktails and dinner later in the evening! Click here to register or for more information.
---
October 7, 2015: Wednesday
---

Save the Date! Our Chapter is celebrating its 40th Anniversary in October and to mark the occasion we're having a party! Please save Thursday, October 15, 2015 for our celebration at the National Constitution Center - More details to follow!
---
October 29, 2015: Thursday
Save the Date! INCREASE your influence, be MORE productive, and get stuff DONE! Presented by: Anita Marchesani, Ph.D., Executive Coach & Licensed Psychologist
---
November 19, 2015: Wednesday
Save the Date! How to Create a "Win Win" Work Environment, Presented by: Kerry Bayles, M.Ed.
---
Spotlight

2015 ALA Annual Conference
Nashville, TN ~ Spotlight:
Many of us from the Philadelphia area attended the 2015 Annual Conference & Expo. This year's theme was "Inspire…Innovate…Lead". Over 1,300 members attended. The exhibit hall was packed. The keynote speaker climbed Mount Everest twice. She connected our challenges with her experience climbing that mountain.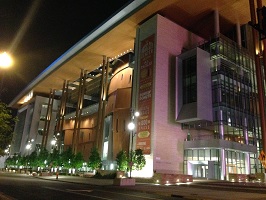 Nashville Music City Center, Nashville, TN
The educational sessions were relevant to today's legal landscape. I attended one session which was 3 hours in duration. Attendees participated in a mock disaster. I would expect that everyone went back to work with suggestions and ideas to be better prepared for the next emergency or event.
The venue was unique. Nashville is a city that just doesn't seem to sleep. Music is everywhere. The convention center is designed as a guitar and is 2 million square feet. Everyone got their exercise every day.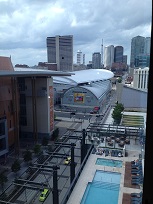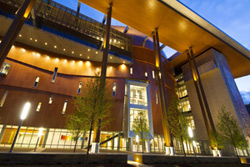 Music City Center, Nashville
We hosted a dinner at the Palm Restaurant on Sunday. Independence Chapter joined us.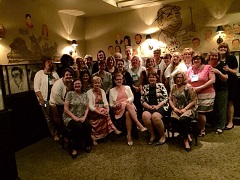 2015 ALA Conference Dinner Attendees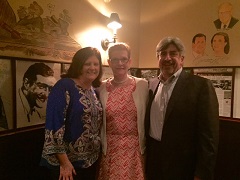 Our Philadelphia Chapter Presidents' Current, Past and Future Elect
Our business partners invited us to various places downtown where every establishment exuded so much energy.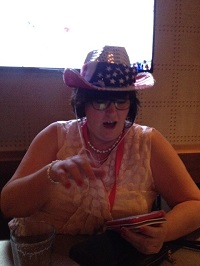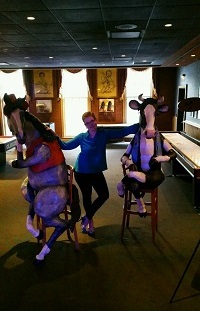 Diane Burkhardt & Gail Ruopp
unleash their inner cowgirl!
At the finale, a few of the Philadelphia members performed the Mummer's Strut. Jeff Poppel was kind enough to record our dancing abilities. I enjoyed spending time with my colleagues and meeting new people. It was time well spent. I don't think I have ever seen so many guitars cowboy boots and hats in my life.
By: Gail Ruopp, Executive Director Flaster/Greenberg